SAT SHRI AKAAL ENGLAND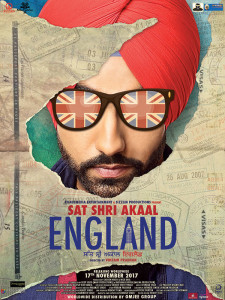 Major German Singh Mann is Like any other typical Punjabi youngster dreaming 24×7 , to migrate to foreign lands. After umpteen futile attempts to migrate to his dream country U.K. , he seeks the expertise of a local agent ' Boota Singh '
' Boota Singh' advises him to get married to a permanent Resident of U.K 'Geet Kahlon' to get through. Major German Singh Mann falls for the "fake marriage" and surprisingly he does get through the tough system to finally land in U.K.
Bigger surprise unveils to German when he finds out that Geet and her boyfriend 'Ricky' are smooth operators in the ' marriage of convenience' business and they are a happy couple soon to be married.
But in reality … All that glitters is not gold…U.K.CITIZENSHIP AND IMMIGRATION SERVICES come knocking at GEET's door as they suspect hers a fraud marriage with German .
Then begins a series of lies to avoid the federal prison… Its sure is a tough game to prove that the marriage of GEET and German is truly 'out of love' and 'not ' out of convenience' ….as GEET hates to bond with a village Bumpkin GERMAN as much as GERMAN loves to bond with a British bombshell GEET. They have 15 days to 'fake' in love…OR …3 years in federal prison of U.K.
Adding to her troubles ,she has to introduce German to her family to prove herself innocent .Will the parents approve of this 'village bumpkin'? will GERMAN & GEET be able to prove it real ?