SARBJIT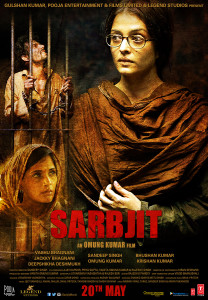 Sarbjit is a biographical drama film directed by Omung Kumar. The film stars Aishwarya Rai Bachchan and Randeep Hooda in lead roles, with Richa Chadda and Darshan Kumar in supporting roles in the film. The film is narrated through the perspective of Sarbjit Singh's sister, Dalbir Kaur, played by Aishwarya Rai. The shooting commenced in December 2015 and released on 20 May 2016.
Plot
Sarbjit Singh (Randeep Hooda) lives in a village near Punjab with his wife Sukhpreet (Richa Chadda), sister Dalbir Kaur (Aishwarya Rai Bachchan) and father. He also has two daughters Poonam Kaur (Ankita Shrivastav) and Swapandeep Kaur. He was a farmer who worked in others farm and earned livelihood. One day he gets arrested by Pakistani army for crossing the border unknowingly. He is tortured in the Pakistani jail to death and convicted as Indian Spy and named as the person behind bomb blasts in Lahore, Pakistan. He is alleged as Ranjit Singh Mattu in Pakistan who is the main culprit behind the blasts.
Sarbjit's sister Dalbir fought with the Pakistani Government for nearly 23 years before Sarbjit being declared as innocent. Sarbjit's case is fought by Awais Sheikh (Darshan Kumar). He with the help of Dalbir tries to find a way to prove Sarbjit innocent and catch the real culprit Ranjit Singh Mattu. But after Sarbjit being declared innocent given bail, he gets attacked in the jail where he gets badly injured and is hospitalized. On 2nd May, 2013 he took his last breath.
Cast
Aishwarya Rai Bachchan as Dalbir Kaur
Randeep Hooda as Sarabjeet Singh
Richa Chaddha as Sukhpreet
Darshan Kumar as Awais Sheikh
Ankita Shrivastav as Poonam
Shiwani Saini as Swapan
Ankur Bhatia as Mandev
Charanprit Singh as Sanjay
Ram Murti Sharma as Daarji