PINK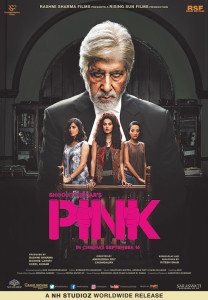 Minal Arora, Falak Ali and Andrea Tariang, three young girls, in their mid 20's, from different parts of India, professionals in their respective fields, stay together as tenants in a posh South Delhi locality…
Staying in the same locality as these girls, is the mysterious and ominous figure, 'Deepak Sehgal'. A yester- year 'big league' lawyer, Deepak Sehgal today is a mere shadow of his infamous self, spending most of his time behind closed doors…
One night, which was supposed to be a girls' night out, becomes for them a dark truth that would continue to hound their future…
Soon after MINAL is charged for 'Attempt to murder', where she could face imprisonment for more than 10 years, if convicted.
Will the law be able to see beyond the obvious, will the society be able to see them beyond their moralistic eyes?
Will these 3 girls be able to come out of this ordeal unscathed or will they be 'scarred' forever?
'PINK' – a social thriller that reflects on the dubious morals of todays' times.
CAST & CREW:
AMITABH BACHCHAN
TAPSEE PANNU
PIYUSH MISHRA
KIRTI KULHARI
ANDREA TARIANG
ANGAD BEDI
VIJAY VERMA
RAASHUL TANDON
TUSHAR PANDEY
Production Design: MEGHNA GANDHI
Costume Stylist: VEERA KAPUR EE
Executive Producer: ASHUTOSH GOSWAMI
Sound Design: DIPANKAR JOJO CHAKI AND NIHAR R. SAMAL
DI & VFX: EDITFX STUDIOS, KOLKATA
Media Consultant: PARAG DESAI (UNIVERSAL COMMUNICATIONS)
Marketing Consultant: DEEPESH SHAH
Theatrical Sound Design: BISWADEEP CHATTERJEE
Visual Promotion: SAHIL SAI
Associate Director: PRASHANT BHAGIA
Casting: JOGI
Music: SHANTANU MOITRA, ANUPAM ROY & FAIZA MUJAHID
Editor: BODHADITYA BANERJEE
Director of Photography: AVIK MUKHOPADHAYAY
Screenplay and Dialogue: RITESH SHAH
Producers: RASHMI SHARMA, RONNIE LAHIRI AND SHEEL KUMAR
Directed by: ANIRUDDHA ROY CHOWDHURY