FORCE 2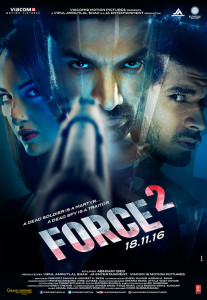 The movie is a high-octane action thriller with a dose of drama. It's partly set in China and India and a big part of the movie takes place in Budapest.
The movie opens with three undercover RAW (Indian External Intelligence agency) being killed under mysterious circumstances in China, Hong Kong and South Korea.
The top brass of RAW calls an emergency meeting. They conclude that the killings were not random but deliberate; the Chinese found out that the men were RAW agents. Someone is leaking classified information to the Chinese
intelligence, but who and why?
ACP Yashvardhan (John Abraham) finds out that the leak came from the Indian embassy in Hungary. The task to uncover the spy and bring him back is handed to Yash and a RAW officer with a turbulent past KK (Sonakshi Sinha), the head of the Eastern Europe desk of RAW.
Yash and KK are like chalk and cheese with different working styles. They arrive in Budapest and with a clever plan discover the identity of the spy, Shiv. He is ruthless and manipulative with an evil streak.
As Yash and KK set about to find Shiv, they start uncovering the reason why Shiv is betraying his country. And realize that Shiv has set a bigger plan in motion with the help of the Chinese. The entire nation is under threat because of this plan.
Will Yash and KK find Shiv? Will they stop Shiv's evil plan? Or does Shiv have another surprise in store for them?
Main Cast : John Abraham, Sonakshi Sinha, Tahir Raj Bhasin
Main Crew:
Written By Parveez Shaikh , Jasmeet K. Reen
Co-produced By Sheel Kumar
Aashin A. Shah
Produced By
Vipul Amrutlal Shah
JA Entertainment Pvt. Ltd.
Viacom 18 Motion Pictures