AZHAR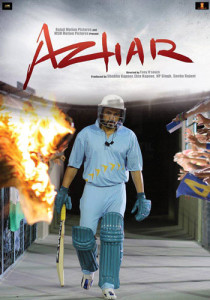 Azhar is a biographical sports drama film written by Rajat Arora and directed by Tony D'Souza. Based on the life of Indian cricketer and former national team captain Mohammad Azharuddin, the film is produced by Shobha Kapoor and Ekta Kapoor for Sony Pictures Networks, and features Emraan Hashmi in the titular role. Nargis Fakhri, Prachi Desai and Lara Dutta play crucial supporting roles. The sports action was done by Rob Miller of ReelSports. The film released worldwide on 13 May, 2016.
Plot
Movie starts with Indian cricketer Mohammad Azharuddin (Emraan Hashmi) scoring a century in his 99th test match, but faces a match fixing allegation due to his name been linked with a London based bookie. The India cricket board slaps a life ban on him from playing cricket. Azhar decides to challenge the ban in court with the help his lawyer friend Reddy (Kunaal Roy Kapoor).
The story goes into flashback, in year 1963 when Azhar was born in a middle class family of Hyderabad. His grandfather dreamed of Azhar playing 100 tests for team India and motivates a soft spoken Azhar to answer his rivals with his batting skills. Young Azhar goes for a Indian team selection match to Mumbai, where on the match day he gets a sad news of his grandfather's death. He still decides to play as this only was his grandfather's last wish. Azhar impresses the selectors, sealing his place in team India and soon becomes national hero by scoring 3 consecutive centuries in his first 3 test innings. In his personal life Azhar ties knot with Naureen (Prachi Desai) and they both start a happy married life. After a loss against Pakistan in 1991, the president of cricket broad calls Azhar for one to one meeting. Azhar initially feared of getting dropped from the team, but gets surprised when he was offered to captain the team. Azhar's appointment as captain doesn't go well down the throat of few senior players like Manoj, Ravi and Navjot, who didn't wanted to take orders from a younger player.
But Kapil (Varun Badola) support and encourage him to focus on his duty. While captaining in an India – Pakistan match, (Javed Miandad) taunts Azhar to change his side as he is also a Muslim to which Azhar replies by leading his team to win and soon becomes a successful captain. At peak of his career, Azhar's personal life takes a twist when he meets a bollywood actress Sangeeta (Nargis Fakhri) during an ad film shoot and falls in love with her. They both start dating but kept their relationship hidden, until it is exposed by a gossip magazine. Azhar then announces his affair with Sangeeta in public and to his wife Naureen. Heartbroken Naureen asks him for divorce and soon Azhar leaves her to marry Sangeeta.
During a cricket match against West Indies, Azhar gets in a spat with Manoj for slow run rate in order to complete his century letting the team loose. Manoj is dropped from the next match and Azhar leads the team to victory. Manoj felt humiliated and decides to avenge Azhar. In later years of his career, Azhar famous for his expensive life style comes in target of match fixers. He is soon been approached by a London based bookie disguised as a diamond merchant, who later offers him 1 crore rupees to under play in a match against Sri Lanka, which Azhar hesitatingly accepts.
In a parallel story, post match fixing scandel Azhar is now facing nation wide criticism and a London based lawyer Meera (Lara Dutta) is building up a strong case against him on the basis of sting operations done by Manoj on Ravi, Navjot and several other cricketers. She also uses the report of inquiry commission set by cricket board and secretly meets bookie M K Sherma to gather more evidence. Meera also approaches Naureen to make her a witness, but she clearly refuses. On the other hand Azhar and his lawyer Reddy are struggling to find any proof of innocence as none of his fellow cricketers are ready to help him out.
Azhar even attends a Gym opening ceremony to gain back his old fame in public but is left insulted by the owner himself. After a long legal fight of Eight years, Reddy finally gets a breakthrough by proving in court that the inquiry commission report is bias as they were been paid by cricket board itself. Reddy even challenges the authenticity of sting operation tapes as none of the witness was under oath and can not be treated as truth. Later, Azhar also revels that he took 1 crore rupees from the bookie to keep him away from other team members but later scored a match winning innings and returned all the money.
On the final day of judgment both Naureen and Sangeeta attends court hearing, showing their support to Azhar. Kapil also states in a television interview that he believes Azhar is innocent. In the final verdict the court declares Azhar innocent and free from all match fixing allegations due to lack of evidence. Azhar once again proudly walks out of the court with his head high and name cleared from all scandals.