ARTH
Arth – The Destination has been in hype for being Shaan Shahid's first ever musical film contrasted with romance. "I have put my heart and soul into creating this movie for it was no less than a challenge to make a romantic film after so many years. I also took this film as an opportunity to strengthen the film trade between two countries. For all these reasons, Arth – The Destination reserves a position dearest to my heart," said Shaan—the director of the film. He also mentioned the cast of the film to be extremely helpful in lending the color that the movie demanded.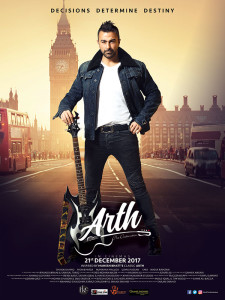 The cast of the film, comprising of Shaan Shahid, Humaima Malick, Mohib Mirza and Uzma Hassan, will be reenacting the roles from Mahesh Bhatt's original story of the film Arth, released in 1982. Shaan will step into Raj Kiran's shoes; Humaima Malick—the star of the film Bol—will be seen playing Samita Patil's role of Kavita; Mohib Mirza—one of the lead actors of the film Dukhtar—as Inder Malhotra, and Uzma Hassan—the actress from one of the most popular Pakistani Drama serials Ullu Baraye Farokht Nahin—will be seen playing Shabana Azmi's role of Pooja. In an interview, Shaan explained his decision of giving the original names of the actors to the roles they were performing. The inherent motif of doing so was to ensure least detachment between their actual lives and the roles they were enacting in the film. Precisely, this seems like an attempt of keeping a reflection of real life upon a cinematic performance.
Shaan himself gave his audience a little sneak peek at the movie, "this film deals with the concept of 'decisions' and their powerful role in an individual's life." He further explained, "eventually, it is these decisions that determine the destination, hence the phrase: Decisions determine Destination." Humaima added into that by explaining how "sometimes a man falls victim to self-pity and gets distracted from his destination. That is what Arth is about – it lets one see things beyond his life." The story mainly circles around the lives of two women—Uzma Hassan and Humaima Malick—the paths they choose and the destination they reach, and how in this trajectory, their lives evolve. Through these characters, the film informs its viewers about the kinds of domestic violence, as would be represented through their disturbed relationships; and it also enlightens the real-life victims to take action against these inhumane acts, either by taking active or passive measures.
The film is produced by Hammad Chaudhry, Faraz Chaudhry and Shaan Shahid under their banners of HKC Entertainment, Cinestar and 5th Element Entertainment, respectively. It is expected to be released worldwide in cinemas on December 21st, 2017.